---
Introduction
CIO's role has become one of the most important catalysts of change within every company. With great responsibility for collaboration with all organizational units within the company CIO's have a lot to focus on. In this article, we look at some key factors that enable successful business transformations. 
The Art of Collaboration 
As an CIO, are you ready to meet the challenges of a complex and accelerating demands that are increasingly about how to deal with a flood of big data, the interconnected nature of networked services, machine learning, globalized customers, digital savvy employees, shifting supply chains, hyper-competition and especially, talent scarcity?
The only solution is to collaborate and rely on stakeholders around you. CIO must gauge the stakeholders' requests and verify them against the know-how in his/her organization to suggest proper solution in an agile environment.
The collaboration is often defined as two or more people working together towards a common goal. Some argue that collaboration is not a skill, but an Art. The success in business transformations involves all stakeholders.
We suggest to take it to the next level where the focus of collaborative environment is cooperation. Cooperation opens us to diversity and serendipity, not just getting the job done. This is necessary as work becomes more complex in networked enterprise and the human factor is increasingly ever more important in successful business transformations.
Effective communication 
Common language and mental models are prerequisites for effectively sharing knowledge and collaborating on complex matters especially during business transformation. Common language and mental models facilitate congruent understanding and effective communication.
Continual dialogue and learning in teams, during intense collaboration on joint endeavors ensures smooth process transformations. Effective communication characterizes leaders who run meetings well, establish a culture of trust and constructive discourse, and invest in training, development, and feedback.
Social tools are increasingly important in facilitating effective communication. These tools are cloud based, designed for real-time interactions, allow users to search conversations, provide a distinctive user experience, and integrate with other enterprise applications (such as file sharing and social media), among several other features. Social tools enable companies to digitize their activities in their organization more easily in all aspects of day to day processes and functions. They make business transformation easier within company's culture.
Embrace the future through your staff 
IT futurist and CEO of the Institute for Global Futures, a San Francisco think tank founded in 1990, and the author of Future Smart, Dr. James Canton, suggests the following 7 strategies for the CIO:
Hyper-competition is the new norm. Expect it. 
What does the market leader in your space do to boldly shape the future of your industry? Do that now. 
Disrupt your organization first before your competition disrupts you. 
Adapt faster to change. Learn new skills that matter. 
Build an innovative culture that rewards people for being innovative. Yes, pay them, promote them, acknowledge them more. A lot more. 
Use data to become a predictive organization. What do your customers want tomorrow? Have you asked? 
Customers are driving change — learn to sense, leverage and get out in front of this reality. What do they see that you don't? 
Surely it is easier said than done. Nevertheless, CIO's success is entrusted in his/her staff. CIO should build a culture of continuous improvement with individuals who have the passion for what they do. CIO's growing role is all about the quality of the relationships he/she can form and the credibility formation with key team members/stakeholders.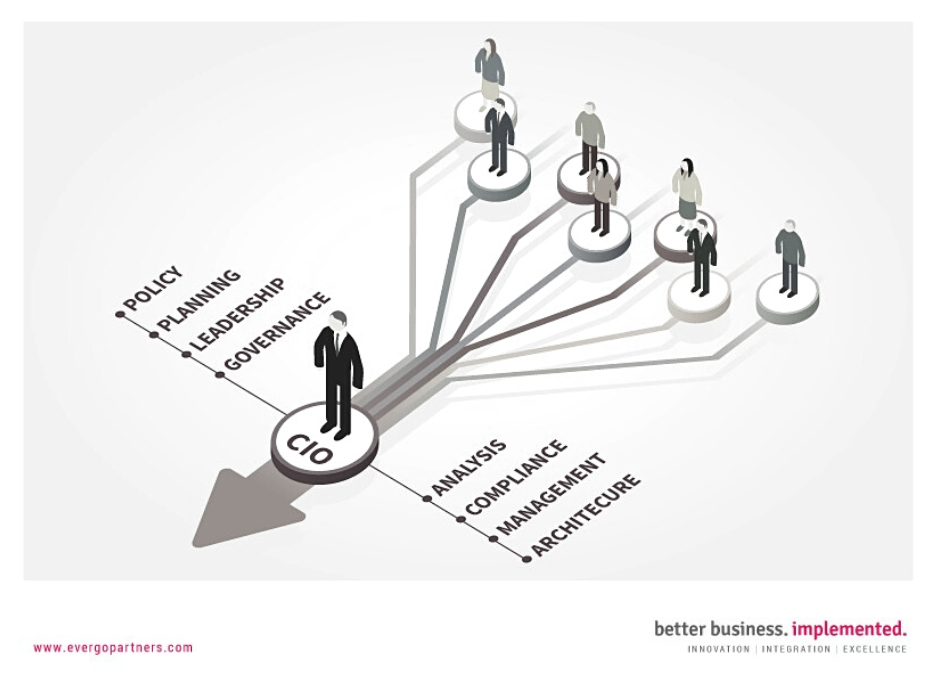 Talent that is needed to properly extract value from IT is very important. CIO needs to select proper staff members to ensure transparency of IT for all stakeholders. Transparency leads to value recognition and investment where benefits are beyond just short term business goals. Transparent value creation can be only achieved within an IT organization that involves all its members.
IT staff is the most important asset that CIO has at his/her disposal and therefore, a CIO must focus on creating a culture of communication and collaboration among its employees. This focus will enable the CIO to deliver on every business transformation there is and there will be.