---
Introduction
In 2002, Amazon CEO Jeff Bezos circulated an important internal memo. In summary, it required every Amazon team to deploy open application programming interfaces and web services in order to facilitate data sharing and functionality. His explicit instruction was mandatory and explained that non-compliance would be grounds for dismissal.
This event shows the extent to which corporate mindsets were already attuned to the strategic implications of an organization's chosen IT architecture, in this case prompting Amazon's proactive attempts to close the gap between its IT and business functions. Contemporary analysts would describe this as a move towards formulating Service Oriented Architecture (SAO) and Enterprise Architecture (EA) in enterprise ecosystem.
Why is Enterprise Architecture important? 
Enterprise Architecture is organizing logic for business process, data, and IT capabilities reflecting the integration and standardization requirements of the firm's operating model. EA provides a high-level design of one or more digitized platforms. These platforms are the scaffolding for business in a digital economy. They comprise reusable capabilities essential to business agility. It tells how we will be running our business.
Digitized Platforms 
A Digitized Platform (DP) is a coherent set of standardized business processes along with supporting infrastructure, applications, and data, intended to ensure the quality and interoperability of core transactions. It provides stability to organizations facing turbulent times and constant need to change.
Concept of digitized platform is tat you wire core process and capabilities into the business with technology based platforms so that you do not have to think about them every day. Instead you can focus on the things that are changing around the business.
Digitized Platform can be based on a layered model of:
Processes – standard and disciplined business processes designed by the company as a consistent set of processes that enable it operate the business
Data – common set of data
Applications – to support execute business processes
User Devices
Network and Infrastructure
All above set a core system of enterprise grade business platforms that can be connected to any proprietary applications, and business partners. Thus a company can rely on it for a low cost high quality technology, process and data capabilities. 
Transformation of IT maturity with EA 
Most companies struggle with a messy and overcomplicated platforms and scattered IT environments. It in fact corresponds to a somehow messy process environment.
As the company grows it realize it spends a lot on IT and get less incremental value. Also business processes get too complex. Every organization that face this challenges will eventually improve its maturity by using standard solutions and digitized platform(s).
This is a transformation journey of four phases. 
Business silos and scattered IT solutions 
IT organization grows organically along with the business development of enterprise. It focus on several uncoordinated demands that are fulfilled by dedicated IT solutions.
Ii becomes complex and difficult to manage while operational costs grow up.  Further growth becomes challenging and expensive. Thus IT organization is forced to transform to more standardized and optimized. 
Standardized IT technologies and solutions
Three elements help to formulate IT Strategy based on standard solutions and platforms:
Review IT and business processes and take effort to understand costs,
Standardize IT processes and project methodology,
Limit number of technologies that company uses with standard technology environments.
Thus IT becomes more professional, more cost effective and more reliable. 
 IT as a strategic asset 
The next step is to leverage IT to the level of common function. Four points to be mentioned:
Start to standardize the systems, processes and data they need to share in the organization so that the business can take enterprise view of how they are serving their customers.
The business may want to focus on their data or processes but whatever it is the company relies, it becomes more competitive.
Core systems can be core ERP, CRM, ITSM or any other in-house systems
The challenge is to constantly re-engineering processes so that they have enterprise point of view rather than focusing on individual efforts of business units or program initiatives
How that can be modularized and re-used in new environments. and thus they have reached the 4th stage 
 IT leverage on digitize platforms and business modularity 
Most mature form of IT organization is based on modularity and digital platforms.
Understand critical components of our business and when that can be re-used
Management start to realize the value of standardized modules
At the same time they see opportunities for unique modules specific for their domain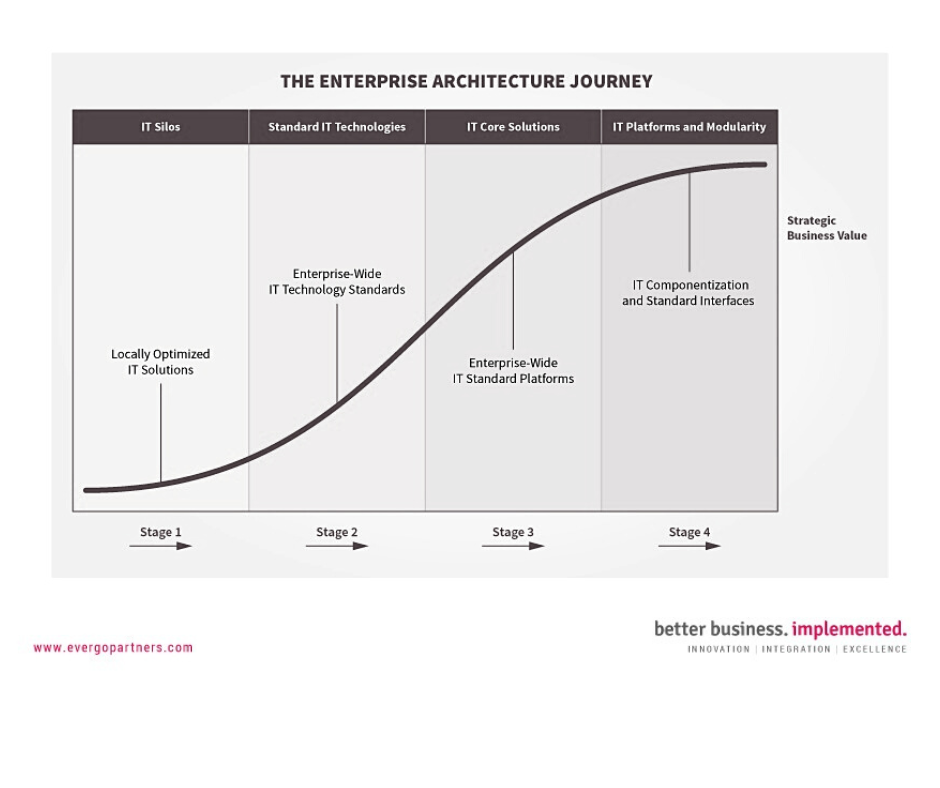 This is ongoing transformation and never get back to how things work before.
***
Sources on EA:
Complete seminar wrt. EA with Dr. Rosse: https://www.youtube.com/watch?v=ScHG63YmJ2k